Incarcerated Adults Support
All incarcerated persons are rigorously chosen by a formerly incarcerated person and/or incarcerated persons that are with particular organizations.  These persons  that Save the Kids collaborates with, are members or coordinators of a Save the Kids chapter and are dedicated to mentoring youth, peace, social justice, community empowerment,and education. If you have a friend or family member that is a incarcerated person that you believe would be a great member Save the Kids contact: Lucas Alan Dietsche – 920-266-5012 or  lucasdietsche81@gmail.com
For more prisoners visit Jericho Movement
Prison Books Collective
Anarchist Black Cross
Incarcerated Workers Organizing Committee
_________________________________________________________________________________________________________
Free Chrystul Kizer:
Chrystul Kizer is a black teenage survivor of violence. At only 17-years old, she was charged with multiple felonies for defending herself from an older white man who has been accused of ongoing physical and sexual abuse of not only Chrystul, but multiple other young girls. Chrystul spent her 18th birthday incarcerated in the Kenosha County Jail, where she remains confined. If convicted, Chrystul could face a sentence of life in prison. Chrystul needs the opportunity to be supported in safe, healing spaces in the community – not the prospect of additional trauma, assault, and solitary confinement in a Wisconsin penitentiary.
Write to
#675636
Taycheedah Correctional Institution
Fond du lac,WI 54936
---

Red Fawn
On July 11, 2018 Red Fawn was sentenced to 57 months pursuant to the terms of  a non-cooperating plea agreement accepted by the court  on January 22, 2018. In exchange for a guilty plea to the charge of Civil Disorder and Possession of a Firearm and Ammunition by a Convicted Felon, the charge of Discharge of a Firearm in Relation to a Felony Crime of Violence was dismissed. Had Fallis gone to trial and been convicted of this charge, she'd have faced a minimum of 10 years and risked up to life in prison. She was sentenced to 18 months on the Civil Disorder charge and to a concurrent term of 57 months on the Possession charge and is in  FMC Carswell in  Fort Worth, TX.
To learn more about Red Fawn and how to support her, please visit her Support Committee website here.  To make a contribution directly to Red Fawn (funds that will be added to her commissary to cover costs of phone calls and other needs in prison), please do so here. The information you will need is to accomplish this is: RedFawn Fallis, Prisoner No.16358-059. (Please note they do collect personal information from you, and may even phone you to verify your remittance of funds.)
Red Fawn Fallis
Prisoner No. 16358-059,
FMC Carswell
PO Box 27137
Fort Worth, TX 76127
---
Nina Droz-Franco 
#50427-069
FCI Tallahassee
Federal Correctional Institution
501 Capital Circle, NE
Tallahassee, FL 32301
Nina Alejandra Droz Franco was arrested by the Puerto Rico Police as she sat on the street to block a line of riot cops during the disturbances that followed the mass march that took place on May 1st, 2017. Later that day, ATF took over the investigation. On May 2, she was transferred to federal custody and charged with damaging or attempting to damage by means of fire a building engaged in activity affecting interstate commerce, in violation of Title 18, United States Code, Section 844(i). Specifically, she was accused of trying to set fire to the Banco Popular building in the "Golden Mile" area, which on May Day was the target of the rage of hundreds of protesters who smashed its glass windows and wrote on its walls.
Banco Popular and its owners, the Carrión family, have been denounced for their undue influence on local politics as well as their role in the Puerto Rican fiscal crisis. Today, one of the Carrión heirs, Jose Carrión III, is a member of La Junta, the unelected fiscal control board imposed on Puerto Rico by PROMESA.
After her arrest, the U.S. District Attorney for the District of Puerto Rico, Rosa Emilia Rodríguez Vélez, tried to portray Droz as a terrorist and even used the name of the role she played as an extra in the movie Runner Runner, "the girl who breathes fire", to sway the people against her. Later, Judge Delgado issued a gag order saying that Droz's attorney had tried to politicize the decision to process his client, a conduct which threatened to interfere with the possibility of a fair trial. Droz was denied bail mostly because of the prosecutor's argument that she is a repeat offender (due to a decade old criminal case in another jurisdiction), that she recently used violence in an incident with a man (who was harassing her) and that her parents cannot control her. As proof, the prosecution used a video found on her phone of her mother scolding her as well as a telephone conversation between Droz and her mother after she was in jail.
During her bail hearings, Droz's attorney denounced that she was not being provided with the medication she was prescribed for her chronic pain and anxiety, or with the appropriate bedding for herniated discs. Judge Delgado dismissed these claims saying that Droz was evaluated when she was jailed and that the determination to eliminate some medication was probably due to the fact that she was being over medicated.
Although Droz initially pled not guilty, on July 12 she changed her plea after reaching an agreement with the prosecution which proposed a sentence of three years and one month in jail, while the defense suggested two years. 

Nina was sentenced on Tuesday, June 12th to 37 months in jail and 3 years of probation.  She might be move3d to a prison in the U.S. in the near future.
https://www.prolibertad.org/nina-droz-franco?fbclid=IwAR1BT5yd6Xh1RTTq3ts7G8sSrn7ED36b9JxlcunckxQ6PybGCA_ucwoCKiU
————————————————————————-
Sean Swain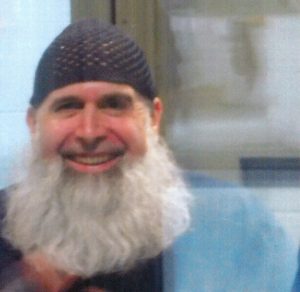 Sean Swain is a hostage held by a lawless rogue-state calling itself "The State of Ohio."1    He has been held without legal conviction or sentence since 1991 for the self-defense killing of a court official's relative who broke into Sean's home and threatened his life. In fall of 2012, prisoners calling themselves the Army of the 12 Monkeys (A12M) got rowdy at Mansfield Correctional, and the prison authorities assumed "that anarchist" Sean Swain must have been behind it and threw him in supermax isolation. Sean denies any involvement or affiliation with the A12M and is in the process of suing the ODRC for targetting him based exclusively on his ideology and political speech.
Sean is the only son of a retired auto worker and stay-home mom. He has renounced his high school diploma, his college degree, and his honorable discharge from the U.S. military. Before being taken hostage, Sean worked as a newspaper columnist and as a union organizer.
Sean is mounting his most recent run for Governor of Ohio in 2018. If elected, he promises to decommission the Ohio National Guard, empty Ohio's prisons and turn them into squats, recognize Native American land rights as set forth by the Treaty of Greenville, arm the tribes with national guard weaponry, to include tanks and attack helicopters, refuse to sign any budget causing the government to shut down, and sign an Executive Order making it legal to assassinate him if he remains in office longer than 90 days.
Though innocent of any crime, and though he is held without legal conviction or sentence, Sean will only be liberated when the illegitimate power of the lawless rogue state holding him hostage is abolished once and for all.
The State started the war. Sean Swain intends to finish it.
________________________________________________________________
1.    The Treaty of Greeneville in 1795 established most of Ohio as unceded "Indian Territory." The so-called "State of Ohio" has no legal claim whatsoever to exercising authority over this territory.
2.     See, Sean Paul Swain v. William Fullenkamp, et. al., U.S. District Court Case No. 3:09-CV-2659, Judge Jack Zouhary, Decision, 19MAY10, p. 2. Nelson Mandela, Vaclav Havel, Thomas Jefferson, Henry David Thoreau, Malcolm X, Emma Goldman, Huey Newton, Frantz Fanon, Abbie Hoffman, Ward Churchill, and Martin Luther King Jr., were all accused in their own times of "promoting anarchy and rebellion against authority." It would seem Sean is in much greater company than is Judge Jack Zouhary.
Sean Swain #2015638
Buckingham Correctional
1349 Correctional Center Road
Dillwyn, VA 23936
————————————-
---

Cesar DeLeon
Cesar DeLeon is a incarcerated radical activist that has been an organizer on countless hunger strikes in many Wisconsin prisons in the last couple years.    His main focus is to end solitary confinement, mistreatment, and the harsh realities of Wisconsin Department of Corrections Institutions.  He has witnessed countless personal physical attacks on himself and others, as well as being forced fed during his hunger strikes.  He has been moved to many facilities because of his prison radicalism.  Write to:
Ceasar DeLeon #322800
Racine Correctional Institution
P.O. Box 900,
Sturtevant, WI 53177-0900
RUSH CITY PRISON
_________________________________________________________________________________________________________
Christopher Fausto Cabrera
OID# 214176
MCF Rush City
7600 525th St.
Rush City, MN 55069
BD: 09/30/1980
___________________________________________________
LINO LAKES PRISON
______________________________________________________________________________
______________
Michael Buntrock
OID #183235
MCF Lino Lakes
7525 Fourth Avenue
Lino Lakes, Minnesota  55014
BD: 09/23/1976
_________________________________________________________________________________________________________
FARIBAULT PRISON

_________________________________________________________________________________________________________
Trevor Anthony Brown
OID# 203814
MCF Faribault
1101 Linden Ln
Faribault, MN 55021
BD: 04/28/1980
_______________________________________________________________________________
_________________________________________________________________________________________________________
Maurece Graham
OID# 201727
MCF Faribault
1101 Linden Ln
Faribault, MN 55021
BD: 08/01/1977
_________________________________________________________________________________________________________
STILLWATER PRISON
_________________________________________________________________________________________________________
Fong Lee
OID# 217805
MCF Stillwater
970 Pickett St N
Bayport, MN 55003
BD: 10/19/1985
_________________________________________________________________________________________________________
Toby Earl Johnson
OID# 205064
MCF Stillwater
970 Pickett St. N
Bayport, MN 55003
BD: 11/14/1980
_________________________________________________________________________________________________________
Jeffery Young
OID# 213390
MCF Stillwater
970 Pickett St. N
Bayport, MN 55003
BD: 1/7/1978
_________________________________________________________________________________________________________
PRISONERS THROUGHOUT THE U.S.
_________________________________________________________________________________________________________
Reverend David E. Rose, Sr.
#162-393/SID # 0307498
P.A.IA. – O.N.P. at E.C. I. W.
30420 Revell's Neck Rd.
Westover, MD 21890
BD: 10/06/1957
_________________________________________________________________________________________________________
George Brook
39766080
Federal Correctional Institution
PO Box 1010
Bastrop, TX 78602
_________________________________________________________________________________________________________
Eduardo Tolentino Jr.
Booking # 183009-194484
Imperial County Jail
PO Box 679
El Centro, CA 92244 __________________________________________________________________________________________________________________________________________________________________________________________________________________
_________________________________________________________________________________________________________
Andre Hester
#1018524
Washington State Prison
PO Box 206
Davisboro, GA 31018
_________________________________________________________________________________________________________
Calvin Coleman
#00399534
Louisiana State Penitentiary
17544 Tunica Trace
Angola, LA 70712
_________________________________________________________________________________________________________
Thanks to ABC New York for this awesome compilation!https://nycabc.files.wordpress.com/2019/07/nycabc_polprisonerlisting_jul2019.pdf
BLACK/NEW AFRIKAN LIBERATION
Smart Communications/PA DOC
Mumia Abu-Jamal #AM8335
SCI Mahanoy
Post Office Box 33028
St Petersburg, Florida 33733
Birthday: April 24
Mumia is an award winning journalist and was one of the
founders of the Black Panther Party chapter in Philadelphia, PA.
He has struggled for justice and human rights for people of color since he was at least 14 years old ~ the age when he joined the Party. In December of 1982, Mumia, who moonlighted by driving a taxi, happened upon police who were beating his brother.during the melee, a police officer was shot and killed. Despite the fact that many people saw someone else shoot and then runaway from the scene, Mumia, in what could only
be called a kangaroo court, was convicted and sentenced to death. During the summer of 1995, a death warrant was signed by Governor Tom Ridge, which sparked one of the most effective organizing efforts in defense of a political prisoner ever. Since that time, Mumia has had his death sentence overturned, but still has a life sentence with no opportunity for parole. More information: freemumia.com
---
Jamil Abdullah Al-Amin #99974-555
USP Tucson
Post Office Box 24550
Tucson, Arizona 85734
Birthday: October 4
Formerly known as H. Rap Brown, the Imam came to prominence
in the 1960s as chairman of the Student Nonviolent Coordinating
Committee and the Justice Minister of the Black Panther Party. He is perhaps mostfamous for his proclamation during that period that "violence is as American as cherry pie", as well as once stating that "If America don't come around, we're gonna burn it down." He is currently serving a life sentence for homicide.
---
Smart Communications/PA DOC
Joe-Joe Bowen* #AM4272
SCI Fayette
Post Office Box 33028
St Petersburg, Florida 33733
*Address envelope to Joseph Bowen.
Birthday: January 15
Joseph "Joe-Joe" Bowen is one of the many all-but-forgotten frontline
soldiers in the liberation struggle. A native of Philadelphia, Joe-Joe was
a young member of the "30th and Norris" street gang before his incarceration politicized him. Released in 1971, his outside activism was cut short a week following his release when Joe-Joe was confronted by an officer of the notoriously brutal Philadelphia police
department. The police officer was killed in the confrontation, and Bowen fled. After his capture and incarceration, Bowen became a Black Liberation Army combatant,defiant to authorities at every turn. In 1973, Joe-Joe and Philadelphia Five prisoner Fred "Muhammad" Burton assassinated Holmesberg prison's warden and deputy warden
as well as wounded the guard commander in retaliation for intense repression against Muslim prisoners in the facility.
In 1981, Bowen led a six-day standoff with authorities when he and six other captives took 39 hostages at Graterford Prison as a freedom attempt and protest of the prison conditions. Much of his time in prison has been spent in and out of control units, solitary confinement, and other means of isolating Joe-Joe from the general prison population.
These include three trips to Marion Penitentiary, where he met Sundiata Acoli and other BLA members. He is legendary to many prisoners as a revolutionary. "I used to teach the brothers how to turn their rage into energy and understand their situations," Bowen told the Philadelphia Inquirer in 1981. "I don't threaten anybody. I don't talk to pigs. I
don't drink anything I can't see through and I don't eat anything off a tray. When the time comes, I'll be ready."
---
Veronza Bowers, Jr. 35316-136
FMC Butner
Post Office Box 1600
Butner, North Carolina 27509
Birthday: February 4
Veronza was a member of the Black Panther Party, convicted in the murder
of a U.S. Park Ranger on the word of two government informants, both of
whom received reduced sentences for other crimes by Federal prosecutors.
There were no eye-witnesses and no evidence independent of the
informants to link him to the crime. At trial, Veronza offered alibi testimony, not credited by the jury. Nor was testimony of two relatives of the informants who insisted that they were lying. The informants had all charges against them in this case dropped and one was
given $10,000 by the government according to the prosecutor's post-sentencing report.
Veronza has consistently proclaimed his innocence of the crime he never committed, even at the expense of having his appeals for parole denied for which an admission of guilt and contrition is virtually required. More information: veronza.org
---
Smart Communications/PA DOC
Muhammad Burton* AF3896
SCI Phoenix
Post Office Box 33028
St Petersburg, Florida 33733
*Address envelope to Fred Burton.
Birthday: December 15
Frederick Burton is an innocent man who has diligently attempted
to prove his innocence to the courts for 47 years. Prior to his
inprisonment, Fred worked for a phone company, was a well respected member of hiscommunity and his wife was preparing to have twins. In 1970, Fred was accused and thenconvicted of participating in the planning of the murder of Philadelphia police officers. While the alleged plan was to blow up a police station, instead a police officer was shot
and killed by alleged members of a radical group called "the Revolutionaries."
---
Cinque Magee* #A92051
B3-138
California Mens Colony
Post Office Box 8103
San Luis Obispo,California 93409
*Address envelope to Ruchell Magee.
Birthday: March 17
Commonly regarded as the longest held political prisoner in the U.S., Ruchell Mage has been imprisoned since 1963. He was politicized in prison and particpated in the August 7, 1970 Marin County Courthouse Rebellion— the attempted liberation of political prisoner George Jackson and the Soledad Brothers by Jackson's younger brother
Jonathan. Magee was seriously injured in the incident and subsequently pleaded guilty to aggravated kidnapping. He was sentenced in 1975 to life in prison and has been denied parole numerous times.
————————
Jalil Muntaqim* #77-A-4283
Sullivan Correctional Facility
Post Office Box 116
Fallsburg, New York 12733-0116
*Address envelope to Anthony Bottom.
Birthday: October 18
Jalil became affiliated with the Black Panther Party at age 18.
Less than 2 months before his 20th birthday he was captured with
Albert Nuh Washington in a midnight shootout with San Francisco
police. He was subsequently charged with a host of revolutionary activities including the assassination of two police in New York City, and is currently serving a 25 years to life sentence in New York State. His case is known as the New York 3 case as his codefendants include Nuh and Herman Bell. He was also implicated in the San Francisco 8case, and pled guilty to a lesser offense. More information: freejalil.com
---
---
Smart Communications/PA DOC
Russell Maroon Shoatz #AF3855
SCI Dallas
Post Office Box 33028
St Petersburg, Florida 33733
Birthday: August 23
A dedicated community activist and founding member of the
Philadelphia based organization Black Unity Council, which
eventually merged with the Black Panther Party (1969). In 1970,
along with 5 others, Maroon was accused of attacking a police station, which resulted in an officer being killed. This attack was said to have been carried out in response to the rampant police brutality in the Black community. For 18 months Maroon functionedunderground as a soldier in the Black Liberation Army. In 1972 he was captured. Twice
he escaped—once in 1977 and again 1980, but both times he was recaptured and today he is held in Pennsylvania where he is serving multiple life sentences. More information:
russellmaroonshoats.wordpress.com
---
–
Smart Communications/PA DOC
Charles Sims Africa #AM4975
SCI Dallas
Post Office Box 33028
St Petersburg, Florida 33733
Birthday: April 2
---
–
Ed Poindexter #27767
Nebraska State Penitentiary
Post Office Box 22500
Lincoln, Nebraska 68542
Birthday: November 1
——-
ANARCHIST MOVEMENT
Casey Brezik #1154765
WRDCC
3401 Faraon
St. Joseph, Missouri 64506
Birthday: December 30
In 2010, anarchist Casey Brezik tried to assassinate the governor
of Missouri. In June of 2013, he was convicted and sentenced to
a dozen years on each of three counts – assault and two armed
criminal action charges – and seven years on a second count of assault. All sentences will concurrently run. More information: supportcasey.org
---
---
—
Eric King #27090-045
USP Atlanta
Post Office Box 150160
Atlanta, Georgia 30315
Birthday: August 2
Eric King, a vegan anarchist, was arrested and charged with an
attempted firebombing of a government official's office in Kansas City, Missouri in September 2014. Eric was charged with throwing a hammer through a window of the building, followed by two lit Molotov cocktails. In March of 2016, he accepted a noncooperating plea agreement to one count of using "explosive materials to commit arson of property used in or affecting interstate commerce." More info: supportericking.org
---
—
Cleveland Four
The Cleveland 4 were four Occupy Cleveland activists, Brandon, Connor, Doug and"Skelly." The four were arrested on April 30th, 2012 and accused of plotting a series of bombings, including that of an area bridge. The reality is that the FBI, working with an informant, created the scheme, produced the explosives, and coerced these four into participating. Connor, Doug, and Brandon took non cooperating plea deals and pleaded
guilty to all charges. The judge applied a "terrorist enhancement" charge to each of them.Doug is serving 11.5 years, Brandon 9 years 9 months, and Connor 8 years 1 month. Skelly took his case to trial acting as his own lawyer. He was found guilty on all counts by his jury and sentenced to 10 years. The four have appealed their cases and lost. As a collective, NYC Anarchist Black Cross has decided to withdraw support for
Brandon Baxter of the Cleveland 4. It has come to our attention that Brandon has been problematic, abusive, and manipulative to women who have offered him support, material or emotional. Brandon has not been receptive to concerns about this behavior. We are in
solidarity with those who have been impacted by Brandon's toxic behavior and feel it is imperative to discontinue support so as to not facilitate any further harm to women. For these reasons, we no longer feel comfortable supporting or encouraging others to do so.
More information: cleveland4solidarity.org
——————————
Skelly* #57976-060
USP McCreary
Post Office Box 3000
Pine Knot, Kentucky 42635
*Address envelope to Joshua Stafford.
Birthday: October 3
Connor Stevens #57978-060
FCI Yazoo City
Post Office Box 5000
Yazoo City, Mississippi 39194
Birthday: December 17
Douglas Wright #57973-060
USP Victorville
Post Office Box 3900
Adelanto, California 92301
Birthday: May 31
NATO 3
The NATO 3 were arrested on May 16, 2012 in the lead up to the anti-NATO protests in Chicago, Illinois. They were originally charged with 11 felony counts under the Illinois state version of the USA Patriot Act including material aid for terrorism, conspiracy to commit terrorism & possession of an incendiary device. What surfaced after their
arrest were that two undercover cops, "Mo" and "Gloves" had been trying to entrap these three activists and others as part of Chicago's surveillance & targeting of the local activist community. The NATO 3 went to trial on January 21, 2014, were acquitted of all terrorism counts on February 7. They were found guilty of possession of an incendiary
device with the intent to commit arson, possession of an incendiary device with theknowledge that another intended to commit arson and mob action. On April 25, 2014,Brian Church was sentenced to five years, Brent Betterly to six years, and Jared Chase to eight years. In November 2014, Brian Church was released on parole. In April 2015,
Brent Betterly was released on parole. In April 2016, Jared was sentenced to an additional year in prison for squirting a shampoo bottle of his human waste at a correctional officer. Jared said in a letter that he acted out when he did not receive the special diet or vitamins prescribed for Huntington's disease, which is hereditary and marked early on by personality changes, irritability, impulsiveness and impaired judgment.More information: freethenato3.wordpress.com
—–
Jared Chase M44710
Dixon Correctional Center
2600 North Brinton Avenue
Dixon, Illinois 61021
Birthday: June 12
INDIGENOUS RESISTANCE
Oso Blanco* #07909-051
USP Victorville
Post Office Box 3900
Adelanto, California 92301
*Address envelope to Byron Chubbuck.
Birthday: February 26
Indigenous rights activist serving 55 years for bank robbery,
aggravated assault on the FBI, escape and firearms charges. A
confidential informant reported that Oso was robbing banks in order
to acquire funds to support the Zapatista rebellion in Chiapas, Mexico
throughout 1998-99. More information: freeosoblanco.blogspot.com
---
---
—
Red Fawn Fallis #16358-059
FCI Dublin
5701 8th Street–Camp Parks
Dublin, California 94568
Birthday: February 25
standwithredfawn.org
Rattler* #06280-073
FCI Sandstone
Post Office Box 1000
Sandstone, Minnesota 55072
*Address envelope to Michael MarkusBirthday: February 2
freerattlernodapl.com
HACKS/INFORMATION LEAKS
Jeremy Hammond #18729-424
FCI Memphis
Post Office Box 34550
Memphis, Tennessee 38184
Birthday: January 8
Jeremy Hammond is an anarchist computer hacker from Chicago.
In November 2013, he was sentenced to 10 years in federal
prison for leaking the personal information of 860,000 customers of private intelligence firm Strategic Forecasting (Stratfor) through the whistle-blowing website Wikileaks.
This information revealed that Stratfor spies on activists, among others, at the behest of corporations and the U.S. government. More information: freejeremy.net
—–
Chelsea Elizabeth Manning #AO181426
William G. Truesdale Adult Detention Center
2001 Mill Road
Alexandria, Virginia 22314
Birthday: December 17
Chelsea Manning, an anti-secrecy activist and former U.S. Army
intelligence analyst whose release of classified information to
WikiLeaks in 2010 sparked worldwide controversy over transparency in the military and whistleblower protections, was taken into custody at a federal court after a federal judge found her in contempt of court for refusing to answer questions before a secret grand jury.
She can be imprisoned for the duration of the grand jury proceedings, up to 18 months.
More information: xychelsea.is
---
---
---
—
NATIONAL LIBERATION
Nina Droz Franco #50427-069
FCI Tallahassee
501 Capital Circle, NE
Tallahassee, Florida 32301
Birthday: July 30
Nina Alejandra Droz Franco was arrested by the Puerto Rico Police
as she sat on the street to block a line of riot cops during disturbances
that followed a 2017 May Day march. Later that day, the Bureau of
Alcohol, Tobacco, and Firearms (BATF) took over the investigation.
On May 2nd, she was transferred to federal custody and charged with damaging or attempting to damage by means of fire a building engaged in activity affecting interstate commerce. Specifically, she was accused of trying to set fire to the Banco Popular building, which was the target of rage for hundreds of protesters who smashed its glass
windows and wrote on its walls. Droz Franco initially pled not guilty, but on July 12 changed her plea after reaching a non-cooperating agreement with the prosecution that recommended a sentence of three years and one month in prison, while her attorney argued for two years. On June 12th, 2018, she was sentenced to 37 months in prison and
three years of probation.
---
Long Live Thomas Manning! RIP Comrade!
Born to a Boston postal clerk, Tom William Manning is known
for his involvement with the United Freedom Front (UFF) who
bombed a series of empty US military and corporate buidings in
the 1970s and early 1980s in response to their associations with imperialism abroad and apartheid in South Africa. He joined the US Military in 1963, and the following year was stationed at Guantanamo Bay, Cuba before being transferred off to spend the following year in the Vietnam War. Some time shortly after 1965, he was sentenced by a Massachusetts state court to five years in prison for armed robbery and assault.
It was during these years that he became politicized, through his interactions with other prisoners. After his release in 1971, he married Carol and together they had three children–Jeremy, Tamara, and Jonathan. Together with his arrest for the bombings, Manning was also convicted for his role in killing a New Jersey during a traffic stop in 1981 in which the cop first unloaded his .357 revoler in an attempt to kill the car's
occupants. The killings launched the largest manhunt in NJ police history and ended with the arrests of Ray Levasseur, Patricia Gross, Richard Williams, Jaan Laamnan, and Barbara Curzi on November 4th, 1984, and Manning and his wife Carol on April 24, 1985. All were associated with the United Freedom Front. Tom was sentenced on
February 19, 1987 to 58 years in federal prison.
Long Live Tom Manning!
STK Statement, by Lucas Alan Dietsche, Regional Coordinator/ Letters to Prisoners
Tom Manning died July 31, 2019 from a heart attack. Manning really died from not getting treatment while in jail. He was a soldier in the American war against U.S. aggression. He was briefly incarcerated for robbery and became class-conscious during that time. Manning was a member of the Sam Melville/Johnathan Jackson unit as well as the United Freedom Front in the 70's and 80''s. He was radicalized and helped armed attacks against USA-allied South African apartheid and imperialism. He was sentenced to 80 years for the self-defense against a state trooper.
Manning was a friend, Prisoner of Class War, and correspondent to Letters to Prisoners in Superior for the last three years. He wrote to students and activists alike asking in regards to the political situation and one's conscious. We remember our fallen comrades that we write and remember in solidarity behind the walls. Manning was a great artist, poet, and writer of revolutionary discontent. His words live on:
"Revolution is never begun anew, 
only continued where others left off."
---
---
---
—-VIRGIN ISLAND 3
The "Virgin Island 3" are a group of activists accused of murdering eight people in the
U.S. Virgin Islands. The murders took place during a turbulent period of rebellion on the Islands. During the 1970's, as with much of the world, a movement to resist colonial rule began to grow in the U.S. occupied Virgin Islands. From 1971 to 1973, there was a small
scale Mau Mau rebellion taking place on the islands. This activity was down-played by the media, for fear it would damage the tourist industry, which the island's survival depends on. More information: virginislands3.yolasite.com
Abdul Azeez* #16-047
Citrus County Detention Facility
2604 West Woodland Ridge Drive
Lecanto, Florida 34461
*Address envelope to Warren Ballentine.
Birthday: January 9
Hanif Shabazz Bey* #16-001
Citrus County Detention Facility
2604 West Woodland Ridge Drive
Lecanto, Florida 34461
*Address envelope to Beaumont Gereau.
Birthday: August 16
Malik Smith* #16-024
Citrus County Detention Facility
2604 West Woodland Ridge Drive
Lecanto, Florida 34461
*Address envelope to Meral Smith.
Birthday: October 8